ASA Sailing Program
Beginning through advanced sailing lessons certified by the American Sailing Association are provided by professional, experienced instructors certified by ASA and licensed by the US Coast Guard.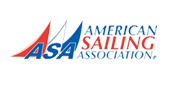 Flagship Sailing Program
Recognizing that not every sailor may wish to pursue certification through one of our ASA courses, Flagship Sailing offers several introductory courses without the requirement for written testing necessary in an ASA course. These courses are taught on the water and require only an instructor evaluation for completion.
Sailing Charters
If you want to enjoy a sailing adventure with a professional captain on board then a Flagship Sailing Charter is for you.
Deposit/Payment
Reservations are subject to a non-refundable deposit equal to 50% of the sailing sailing lesson cost if made more than 72 hours in advance. The balance is due and payable at least 24 hours before the beginning of the lesson. Reservations made less than 72 hours in advance will be charged the full amount at the time the reservation is made, which amount is non-refundable. Charters are to be paid in full at time of reservation.
Non-refundable deposits that are forfeited due to cancellation may be used as a credit toward the then existing price of future sailing classes or charters for up to one year from the date of cancellation. Checks and major credit cards are acceptable. Prices are subject to change.
Cancellation Policy
Sailing school registrants and sailboat charterers who provide notice of cancellation less than fourteen business days prior to the scheduled commencement of the charter and/or sailing class will, in addition to the non-refundable deposit, be liable for the full cost of the scheduled sailing class or charter. For the purpose of this policy, a combination class is to be considered to be a single class, which in its entirety, begins on the first day of that combination class regardless of whether or not the combination class takes place on consecutive days. In the event that Flagship Sailing cancels a charter or sailing school class, the charterer or sailing school registrant may choose either to receive a full refund of the amount paid or to reschedule the class or charter.