ASA Sailing Program
Beginning through advanced sailing lessons certified by the American Sailing Association are provided by professional, experienced instructors certified by ASA and licensed by the US Coast Guard.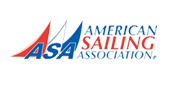 Flagship Sailing Program
Recognizing that not every sailor may wish to pursue certification through one of our ASA courses, Flagship Sailing offers several introductory courses without the requirement for written testing necessary in an ASA course. These courses are taught on the water and require only an instructor evaluation for completion.
Sailing Charters
If you want to enjoy a sailing adventure with a professional captain on board then a Flagship Sailing Charter is for you.
Our Instructors Make the Difference
Flagship Sailing Instructors are experienced educators and professional sailors. They are certified by the ASA and licensed by the US Coast Guard. Every Flagship Sailing student receives realistic, on-board instruction resulting in certification that is recognized around the world. Our professional staff will assist you in selecting the right classes matched to your needs. They provide competent and friendly assistance to make sure you get the best course of instruction at the best price. Whether you wish to sail in the Gulf of Mexico, the Caribbean, or on an inland lake or river, our captains will provide you with the skills necessary to safely live your dreams.
Captain George "Nordie" Norwood
George W. "Nordie" Norwood is a USCG licensed Captain with 100 Ton Master Mariner Rating with Sail and Towing endorsements. He is an ASA Certified sailing instructor through ASA 108 (Offshore Passage Making). He is an alumnus of both Flagship Sailing and the Maryland School of Sailing and has offshore sailing experience in the Atlantic Ocean, Caribbean Sea, and the Gulf of Mexico. He is a former fighter pilot who served over 30 years in the US Air Force. Nordie loves sailing and enjoys introducing others to sailing and teaches at the beginning, intermediate, and advanced levels. He was an ASA Instructor of the Year for 2019 and 2020. Nordie and his wife Connie currently own an Island Packet 40 and live in Riverview, Fl
Adriane Alicia - Director of Operations
Adriane Alicia is the Director of Operations for Flagship Sailing and one of our core sailing instructors. In her administrative role she manages sailing activities and infrastructure, ensures vessels are maintained in a safe, sound and seaworthy condition, and manages safety protocols and drug testing programs. She also manages IT and HR programs and performs community outreach and engagement. As a USCG licensed captain with near coastal endorsement, Adriane is certified to teach through ASA 104 (Bareboat Cruising). She has sailed in Greece, Cuba, Mexico, Pensacola, Key West, and extensively in the Tampa Bay area. Adriane is a registered nurse and offshore safety at sea certified through the US Sailing Association. Adriane owns a 31' Catalina.
Bill Cullen
Bill Cullen has been a USCG licensed Captain for five decades with 100 Ton Master Mariner Rating with Sail Endorsement. He is an ASA Certified sailing instructor through ASA 104. He has extensive racing, cruising, and delivery experience. He has cruised the Bahamas, Eastern and Western Caribbean, the Med, crossed the Atlantic and the South Pacific, and the traveled a few French canals. You may have read his "How To", and "Gadget" articles in various sailing magazines including Sail Magazine and Southwinds. He is the author of www.thebookofsail.com and is a featured speaker at the St Petersburg Boat Show, the Seven Seas Cruising Association, local sailing and yacht clubs, and women's sailing groups. Bill lives in Tampa and is a member of the Tampa Sailing Squadron, The Dolphin Cruising Club, the Catalina Owners Association, and the Seven Seas Cruising Association.
Jean Norwood
Jean Norwood is the Executive Assistant for Flagship Sailing and handles all inquiries and scheduling. In April of 2023, she completed 10 years supporting the Army's computer networks in Kuwait and prior to that had several decades of customer service and management experience within the Airline Industry. Jean completed her ASA 101 certification with Flagship Sailing during a family vacation in Greece. She is "the voice of Flagship Sailing" and enjoys helping those interested in sailing to get certified or follow their passion for sailing.
Captain Gardner Lloyd
In Memoriam
October 15, 1946 - September 21, 2021
Gardner Lloyd, founder of Flagship Sailing, is no longer with us but his Life and Spirit continue to be honored by our team. Gardner was a USCG licensed Captain with 100 Ton Master with Sail Endorsement. He was an ASA Certified sailing instructor through ASA 106 (Advanced Coastal Cruising) and an ASA Instructor Examiner. Gardner learned to sail on a Sunfish in 1958 and went on to race J 29's and Interlake 18's. He sailed in the Gulf of Mexico, the Atlantic Ocean, and British Virgin Islands. He also sailed Chesapeake Bay, the Great Lakes and the Mississippi and Missouri rivers. Gardner—in addition to being a dear friend—served as a mentor and senior advisor to Nordie. Gardner will be missed.
"We're not in the business of teaching sailing—we're in the business of fulfilling dreams." Gardner Lloyd describing his passion for people and sailing
Flagship Sailing is Veteran Owned and Operated.
As such, we are proud to participate in American Sailing Association's (ASA) Veteran's Sailing Education Program by offering a 10% discount to ALL Veterans. We thank you for your service to our Nation.