ASA Sailing Program
Beginning through advanced sailing lessons certified by the American Sailing Association are provided by professional, experienced instructors certified by ASA and licensed by the US Coast Guard.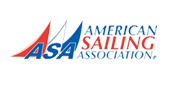 Flagship Sailing Program
Recognizing that not every sailor may wish to pursue certification through one of our ASA courses, Flagship Sailing offers several introductory courses without the requirement for written testing necessary in an ASA course. These courses are taught on the water and require only an instructor evaluation for completion.
Sailing Charters
If you want to enjoy a sailing adventure with a professional captain on board then a Flagship Sailing Charter is for you.
Hear What Our Customers Have to Say
Thank you so much for a great weekend. We really appreciated the patience and kindness that Captain Nordie showed to our family. His passion and love of what he does is apparent, and we are so grateful to have our first sailing experience with him. Look forward to sailing again soon…with a great teacher and coach!
Nancy H.
Thank you again for making it possible for me to take ASA 101. I could not be happier with the course. I have raved about the quality of Captain Nordie's instruction to many. I look forward to continuing my sailing studies; hopefully at Flagship Sailing!
Julie P.
I truly enjoyed my experience with Flagship for the ASA 105 & 106 courses. The instruction was 1 on 1 with Captain Nordie. He is an expert sailor as well as a patient & gifted instructor. I have participated in courses at other sailing schools in the past and would highly recommend Flagship for all levels of sailing instruction.
Ron M.
Would just like to say what a brilliant two day course Captain Nordie gave us last weekend. Both Paul and I thoroughly enjoyed the hands on approach and appreciated Captain Nordie's patience with us. We both learned so much about the sailing and docking but also safety and the communications required when handling a sailboat. It gave us a great insight into what is actually required to sail a 31 foot boat and I would highly recommend the course to anyone who is not an experienced sailor who needs to get an idea of what it is all about.
George M.
I had a wonderful time sailing and learned so much from Captain Nordie. He's an excellent instructor. I can't wait to start sailing and take more classes!
Juliana S.
I would highly recommend Nordie for anyone male or female. He the best sailing instructor I've had and I've done quite a few courses in UK and USA.
Jane O.